There are so many different juicers on the market that it can be very difficult to know which one will be best for you. The good thing is that you now have this resource that will give you the pros and cons of each juicer and know what it is best for.
There is no one juicer that will be better in every aspect than all others. They are specialists. Just like you go to a dentist to clean your teeth and you go to a chiropractor to straighten your back, you should use a masticating juicer for fruits and an auger juicer for leafy greens. Look at the table below to see what kind of juicer you are interested in buying and if it will suit your needs.
Guide to the Best Juicer
Types of Juicers
Masticating Juicers: These juicers work in a similar way to your teeth (To masticate means to chew). These juicers (most prominently the Champion Juicer) first grate the produce, then chews the pulp and presses the pulp to extract the juice. Compared to blenders, these juicers spin much slower.  Their  RPM (Revolutions Per Minute) range at about 1,725, so they will juice a lot slower than a blender, but still at a high speed. Sometimes the juicer will feel hot after some use but most of the nutrition is preserved because the temperature will not exceed 120° F and the food is still considered raw.
Centrifugal Juicers: This kind of juicer uses a shredder or grater which spins at high RPMs (Up to nearly 14,000) and are very loud. The produce is fed into the juicer from the top, goes through the chute and then hits the shredder. After it goes through the shredder, it is forced through a strainer and the pulp is left behind. This juicer is notorious for depleting juices of their nutrients because of its very high RPM (it is still considerably better than any juice bought from a bottle). However it does juice very fast and is normally priced under $100.
Single Auger Juicers: "Auger" in this sense means a device that is basically a shaft with a spiral-like curve on it, it is used to force things to move to the end of it. In the case of juicers, the auger forces food into the wall or screen of the juicer. These kinds of juicers run at low RPMs, ussually at about 100 or less and are very good at juicing greens and can juice fruits but not so well. The yield of these juicers are very high, second only to the Dual Gear (Auger)  Juicers or the very expensive Norwalk juicer. These are easier to clean than Masticating or Dual Gear juicers.
Twin or Dual Gear (Auger) Juicers: This juicer pushes the produce into the two gears which shreds and then squeezes the produce. This style avoids many of the issues that single auger juicers have such as getting jammed with celery strands. Dual gear juicers succeed in cutting celery strands so they does not get stuck and damage the machine. These machines also can juice wheat grass. The most versatile machines are the dual gear juicers but they are also the most expensive.
Benefits of Juicing
The latest research at Harvard suggests that you need about 2 1/2 cups of vegetables a day. The average american eats less than 1 cup a day. Juicing makes it easy to eat the amount of vegetables that you need daily.
Nutrients from vegetables can reduce the risk of cancer and heart disease and also give you energy and vitality. The famous Dr. Norman Walker even used juicers and juice therapy to cure types of cancer such as the bladder cancer in Jay Kordich. Not to say that the only people who need natural juices are victims of cancer, but it is to show the raw and sheer power of juicers.
When juicing, you can ingest many more servings of vegetables and fruits than you would otherwise. 1 1/4 pounds of carrots can make 2.5 cups of juice in the Green Star Elite juicer, that would give you all of the vegetables required in one day by drinking that juice. However, it would be quite difficult and downright not pleasurable to consume over a pound of carrots a day.
Juicers also take away the strain that you body goes through to process all of the fiber in the produce. Especially if you have digestive problems, you may want to consider taking vegetable juice from a juicer because it is easier on your stomach.
Even though fiber is vital for you and should be eaten, it also makes you feel full and you would not be able to get the same amount of nutrients because if you eat fruits and vegetables whole or even blended, the fiber will make you feel full.
Juicing for Health
A great benefit to health in juicing is that it will provide you with enzymes. Enzymes assist to digest and absorb food. However, enzymes begin to be harmed at 118° F and are totally dead by 130° F. This is why Centrifugal juicers are not highly recommended. Slow juicers with lower RPMs are recommended because of the very low heat. The SlowStar juicer operates at 40 RPM and the Omega 8000 series and Omega VRT all operate at 80 RPM.
Generally you will see the difference in juice made with a juicer on a higher RPM because the color will be darker. This is because oxidation has begun. Oxidation is when the food is exposed to oxygen which causes loss of nutrition and changes the composition of the food (This is why you have low-oxygen, low temperature storage houses for apples which last almost one year). Juicers with lower RPMs will have the least amount of oxidation and thus the highest amounts of nutrients. One of the slowest RPM high-quality juicers around is the SlowStar Juicer
 which has a very high yield.
The benefits of eating vegetables is almost endless. Raw cabbage juice freshly made has cured stomach ulcers according to Dr. Garnett Chaney of Stanford University. Instead of cooking or processing foods and destroying the nutrients you should use a juicer that preserves the nutrients.
Blending vs. Juicing
If you're looking for a blender, then please check out my best blender guide. The biggest reason why you would want a blender over a juicer is for fruit smoothies or shakes. With a blender you will get all of the nutrients (including fiber) that you would get by eating the food whole. However, the problem is that most people do not chew enough, which gives your stomach a problem. So if you want to be "juicing" fruits alone, you are better off with a blender because the fiber also helps your system absorb the sugar slowly rather than all at once which would happen if you juiced the fruit.
A juicer will take out the pulp and leave it separated from the juice. You also can drink a juice and still have your regular meal that you want to eat. however, a smoothie from a blender might make you too full to eat a whole meal. Also if you are using a masticating juicer or a twin gear juicer, you will be able to make nut butters, baby food, applesauce or even ice-cream-like desserts.
Reviews of the 3 Best Juicers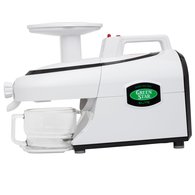 This is hands down the best juicer in terms of juice quality, yield and versatility. It can juice leafy greens, fruits, wheat grass, etc. and will give you more juice than even the most efficient single auger juicers. It also can homogenize your food and so make nut butters, baby food, and frozen deserts—no need to go to Whole Foods to buy these things. If you want the best juicer on the market, this is it.
However, everything has its pros and cons. Because this juicer has the most functionality and is the most advanced (with its own patented 3-step Dual Gear system) it is also the most difficult to clean and is more expensive. So, if you are too lazy to clean do not get this model. Also, because of its superior design, it requires more modifications than other juicers, but once you get the hang of it it will be worth it—the juice from this machine has no rival (other than $2000+ juicers). For more details, read the full review here.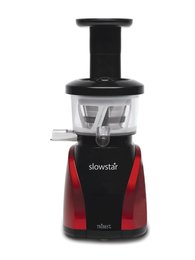 This product is, not surprisingly, also made by Tribest the manufacturers of the Green Star Elite. One of the similarities of these 2 juicers is that Tribest actually researched and patented their own auger, called the Duoblade™ Double-Edged Auger which does a double cut and is thus more efficient. Tribest has been in juicing since 1988 and they know what they are doing.
The claims are that this juicer does twice the work of other single auger juicers—and while I cannot vouch on that, I can tell you that it has the lowest RPM of all trusted brand juicers—running at an RPM of only 47! This will keep your juice the most nutritious, the least oxidized and, honestly, the tastiest. This also has the added benefit of doubling up into a mincer which is handy for cooking. Even if you are not concerned at all with the price this juicer is better than the Green Star Elite for juicing primarily fruits but will not juice veggies nearly as well as the Green Star Elite.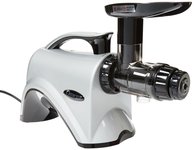 The Omega NC800 HDS is one of the latest juicers on the market, it was released in 2013. It is very good at juicing greens because of its horizontal auger design. This model comes with a 15-year warranty and the price is significantly lower ($200 less) than the Green Star Elite. For the price, it is the best juicer on the market for juicing leafy greens, veggies and even wheat grass.
One of the other benefits of this juicer is the yield, it has the 2nd highest yield in its price range right under the GSE-5000. However, getting the highest yield requires using the adjustable end cap which can give 10% more yield over the Omega 8000 series. It is also very easy to clean—it can be fully cleaned in under 90 seconds.
Reviews of 3 of the most popular juicers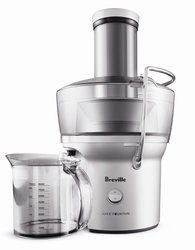 Breville's Compact Juice Fountain is the company's most sold product according to the number of reviews on Amazon
. This is really because of the price tag, which is less than $100 so it a great first juicer. Also, the Breville is very fun to use, it has a "big mouth" feeder which means you can put entire apples inside without cutting them, they simply drop right in. A huge benefit with this juicer is its speed as it can make juices very fast with its 14,000 RPM. It will make you your juice very rapidly and will lose some nutrition in the process due to the high RPM.
Many people get this juicer as their first and love it. Although once they get serious about juicing they often find that this juicer is definitely not the best because it destroys nutrients and gives a low yield. Generally they upgrade to a higher quality juicer, such as a single auger juicer. This is a good beginning juicer and fits in with the fast-paced American lifestyle. It is also the juicer brand used in the documentary Fat, Sick & Nearly Dead
, although if you want the exact juicer used in the film it is $50 more: Breville JE98XL Juice Fountain Plus.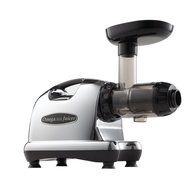 The Omega J8006, in my opinion, has a genuine popularity due to its great quality rather than its intelligent marketing. it was not featured in a movie but is still the 2nd most popular juicer. It produces high yield which you will notice by the very dry pulp by-product. And yes, the Omega NC800 HDS
is the upgraded model of this juicer and is also about $50 more. Regardless of the price, some people prefer this tried and true model, even if there is a "new and improved" version.
It spins at 80 RPM which gives the juice from this model very high nutritious value (much, much, more than from the Breville). As a result it is also quieter. Another big plus about this model is that it is very easy to clean and comes with the highest warranty of any juicer: 15 years.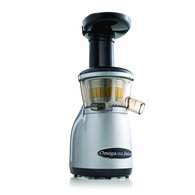 The Omega VRT350 (or the other Omega VRT Models) are very popular because these were one of the first vertical auger juicers on the market. This juicer is great at juicing hard vegetables and fruits, but is not ideal for leafy greens. One of the big advantages to this juicer is that it is heavy duty and has a screen that is 8 times stronger than the previous VRT. If you are a hardcore juicer and want to juice multiple times a day, this is a great pick. The model also has a capability of spinning in reverse to undo any jamming so it can handle juicing celery or anything that would normally get stuck in this style juicer.
This machine runs at 80 RPM which preserves the food's anti-oxidants and other nutrients. This model produces a pulpier juice compared to most juicers, and as a warning is is only a juicer, it is not multi-purpose as with the NC800. So if you want a popular and reliable (10-year warranty) juicer for mainly hard vegetables and fruits, this is a great choice.