if you're like me, you love watching juice offs to see which juicer performs faster and produces more yield. If you're also like me, you have thoughts of maybe opening a juice shack or juicer bar some day.
Well, I have to say you gotta watch this video. It's a family owned company's best juicer, the Goodnature X1, going against the famous Norwalk. You be the judge as to which is the best juicer: The X1 or the Norwalk.
The X1 is made for restaurants and juice bars and they've been in business for almost half a century. If you are going to open a place where you want to serve the best quality juices, you'll want to invest in the best juicer money can buy. Several juice bars are rave about their Goodnature.
This is what the company has to say about themselves: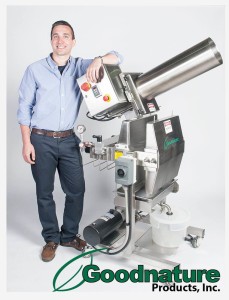 "Goodnature is a family company that has been manufacturing juice presses in the US for over 40 years, and makes the highest quality juice equipment in the world. The Goodnature X-1 makes up to 20 gallons / 70 liters of juice per hour, hundreds of bottles of juice a day.
"The X-1 is used by hundreds of juice bars, restaurants, and juice production plants including BluePrint, Organic Avenue, Juice Press, Suja Juice, Moon Juice, and many others. Please visit our website for more information or to inquire about this machine. https://pomeroyequipment.com/"
Know that this is commercial-grade and is NOT intended for home use. If you need a juicer for household purposes, check out our personal juicer guide.