Review
Size

Price

Yield

Cleaning

Noise
Pros:
This is the only decent juicer you can get for under $50. This manual juicer is a couple of hundred bucks less than leading electric models. The great thing is you don't sacrifice one ounce of quality in your juice, it does superbly on leafy greens and wheatgrass. This model yields as much as any electric single auger juicer. it is quiet because it doesn't use a motor and takes up as much space as a small plate.
Cons:
It's not electric or automatic—it runs on elbow grease. However, this can be viewed as an advantage because of the workout. The bottom line is: it doesn't have the luxury of an electric juicer. The feeding hopper is also small.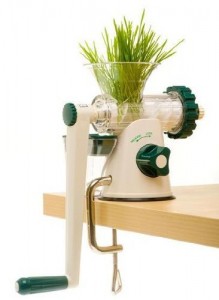 When you a are on a tight budget, finding this juicer is like striking gold: The Lexen Healthy Juicer
is very afforable at $40 and gives more yield on veggies than the Breville, Jack Lalanne or any other Centrifugal style juicer which can cost you anywhere from $100-$160.
A bit about the manufacturer
The first Lexen Healthy Juicer was released to the market in 2003. The owners of the company started off with this motto: "We were tired of the norm and really tired of the outdated designs! We knew there was a better way. So we set out to design an effective alternative, which fit everyone's budgetary needs." Before them, it was impossible to get a high quality juicer at this price. To get the electric equivalent you could easily pay $280 (such as with the Omega 8006). They also give a 50-year warranty. 50-YEARS! that's virtually a lifetime guarantee on their product because they really know that it is going to work wonderfully and last.
General thoughts on the Lexen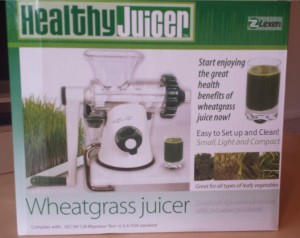 This juicer is marketed almost exclusively as a "Wheatgrass juicer" and it is amazing at juicing wheatgrass, but it paints a bad picture on the quality of the juicer for other produce. This juicer does a great job at juicing carrots, beets, celery or whatever you feed into it. But it is impossible to know that from looking at the box or reading the Lexen website.
It is quite a shock when the box comes in the mail because it is significantly smaller than an ordinary juicer. It comes in a box that's about 7.5 inches tall, 9 inches long and 5 inches deep or about the size of a soccer ball. Well that just proves the saying "Good things come in small packages."
Best Practices on Juicing
If you follow these steps you should be juicing beautifully with no set backs, ever.
Cut up hard veggies or fruit before putting them in the hopper. It will be easier to crank and will be easier on the juicer.
Alternate when feeding produce. If you're juicing spinach and celery, then don't juice all of your spinach and then all of your celery. Alternate them, put some spinach then put some celery, etc. This will give you the best yield and driest pulp.
Read the instructions when assembling the machine. You save some money on this machine because it does have to be assembled (Just like with IKEA furniture). Once you've got it set up right, you're good to go.
Tighten everything with the tool provided. The juicer comes with an easy-to-use tightening tool, use it! If you do, you'll avoid leaking.
Put your collection cup in the right place. The juice comes out on the side of the juicer! So if you're used to a more traditional juicer, be prepared and don't put your juice cup at the front.
Use the metal clamp. It does come with a suction cup under the juicer, but it is recommended that you use both and the metal clamp and the suction cup for the maximum stability.
What can it juice?
Here is an extensive list of produce that this juicer
can handle:
Collard Greens
Wheatgrass
Cabbage
Kale
Celery
Spinach
Bok choy
Carrots
Apples
Lemons
Lime
Oranges
Ginger
Parsley
Cilantro
Beets
Pears
Grapes
Honeydew
Tomatoes
What can't it juice? Well if you have trouble juicing something with it, please leave a comment below. I haven't yet found something that this juicer cannot juice.